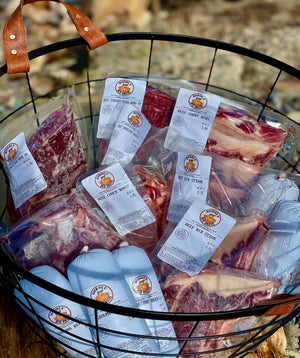 Home on the Range Butcher Box
This Rancher's Butcher Box has it ALL!  A great way try a variety of beef cuts and keep your freezer stocked!
2 Rib Eye Steaks (17 oz)
2 Roasts (2.5-4 lbs)
1 Sirloin Steak (1.5 lbs)
1 Sirloin Tip  (1.5-2.5 lbs)
1 Short Ribs (4 in Pkg, 1.7 lbs)
5 Ground Beef (1 lb packages)

Quality you can count on!
* Dry-Aged Beef
* Pasture Raised, Grain Finished
* Homegrown Colorado USA Ranch Raised Beef
* USDA Inspected and Labeled
* Individually wrapped and vacuum sealed
* Raised without Hormones or Antibiotics